Wonder what it feels like to find relief from persistent pain and/or swelling?  Find out for yourself with a Manual Lymph Drainage  (MLD) Therapy session.
Best known for resolving and relieving symptoms of lymphedema, MLD is now being applie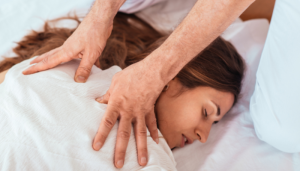 d to a wide range of physical conditions including improvements in immune function, reduction of inflammation, detoxification of soft tissue and organs, alleviation of pain and more. MLDT can even help you battle fatigue and general discomfort.
MLD for wellness is like getting a tune-up for your body! Try it, you'll like it!
Some Signs of a congested lymphatic system may include:
Swelling – Pain -Fatigue – Skin disorders – Headaches – Sinus Congestion – Digestive Issues – General d
iscomfort – Fibrosis formation – Puffiness in eyes or face – Swelling in the fingers (tight rings) or ankles – Bloating – Soreness or stiffness upon waking – Breast swelling or tenderness – A sense of fogginess in the brain – Worsened allergies – Food sensitivities – Increased colds or flu
Some Common Conditions that can be treated with MLDT
Body aches and pains – Complex regional pain syndrome – Herniated Discs- Pre and Post-surgical procedures – Fibromyalgia – Stiffness – Depression – Swelling or edema – Skin disorders – Fatigue – Insomnia – Stress – Digestive problems – Arthritis – Migraine episodes – Allergies
The Science
This therapy has been solidified through studies. Evidence based research demonstrates significant changes that support the effectiveness of Manual Lymph Drainage. It is time and cost effective. Our goal is to offer you a maximum outcome, in minimal time. Google Scholar, Johns Hopkins Medicine and the Mayo Clinic all provide a simple way to search the research. Manual Lymph Drainage, when performed properly, can and does make a difference. So, why let the issues with your tissues, linger?
The New Era
In June 2015, the lymphatic system of the brain was finally recognized! The blood and lymphatic systems are the two major circulatory systems in our body. Although the blood system has been studied extensively, the lymphatic system has received much less scientific and medical attention but that is changing rapidly. There have been many landmark discoveries over the past decade and quite a few recently! Because we now know that the glymphatic (lymphatics of the brain) drain into the same area as the rest of the lymphatic system, many believe that when you are having an MLD session, you are also getting a Brain Drain! Hmmm….
3/16/2017 –
It's a stunning discovery that overturns decades of textbook teaching: researchers at the School of Medicine have determined that the brain is directly connected to the immune system by vessels previously thought not to exist. "I really did not believe there were structures in the body that we were not aware of. I thought the body was ma
pped," said Jonathan Kipnis, a professor in the Department of Neuroscience and director of the University's Center for Brain Immunology and Glia. How these vessels could have escaped detection when the lymphatic system has been so thoroughly mapped throughout the body is surprising on its own.
Read more here: https://news.virginia.edu/content/theyll-have-rewrite-textbooks