Imagine...
You and your guests slipping into soft, warm bathrobes and slippers and enjoying the relaxing ambiance, soft music and the warm lighting of your own private party room. Then imagine nibbling on freshly prepared party food snacks and enjoying the company of the people that mean the most to you. Finally, embark on a journey through our signature body treatments which will engage your senses with warm blends of aromatic oils, herbs, lotions and oils to revitalize your body and mind. Our nurturing massages incorporate long, flowing, strokes, aimed to dissolve life stresses. Our goal is to make you feel like you just found heaven.
Emerged
Relaxed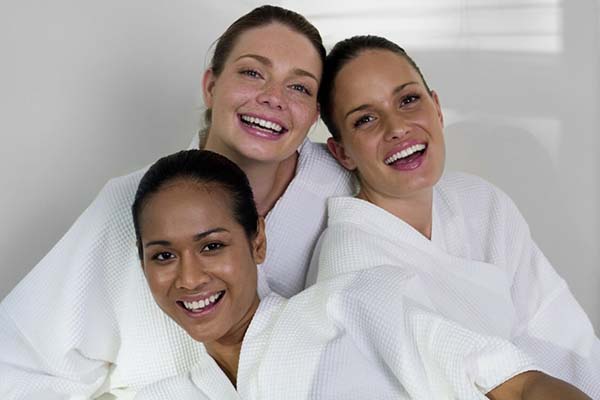 Renewed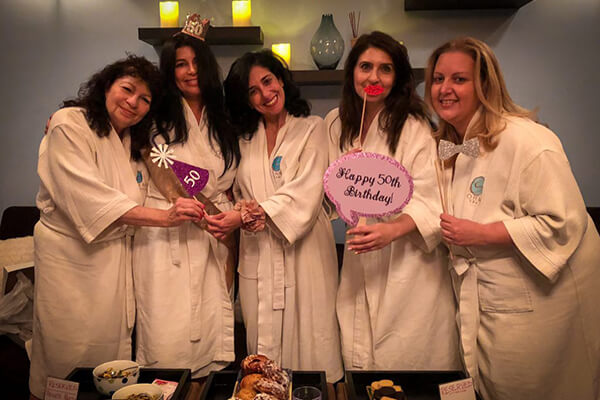 Rejuvenated
All Massage Spa Parties include:
Use of slippers and robes
Warm aromatic foot soaks
Luxurious Ecof-fin Dips (a healthy paraffin alternative)
Snacks and beverages
3 hour use of the Party (Tranquility)Room
Gratuity based on Massage time, not party time
The best massages on Long Island!
All Spa Parties are all-inclusive. We take the stress out of party planning!  Our parties start at 6 or more guests!  (There is a 10 percent up charge for a party of 5)
Bachelorette Parties are given in honor of the bride to be! Do it in style! We are conveniently located in Central Long Island. So guests from Suffolk County and Nassau County will all be pleased! Our Massage Spa Parties are perfect for female bonding! We can accommodate most Wedding Parties. Our Spa Party Tranquility Room and massage rooms are sure to please even the fussiest bride-to be!
Menu Of Services
There is a party room premium of $100 for use of the party room for 3 hours
Infrared Sauna use can be added on for $10 per person if pre-booked
Sunday (or any day) at the Spa Party $113.00 per person Enjoy One Hour (50 minute) Spa Massages. Includes fresh hot coffee, tea & an assortment of bagels, muffins, croissants, jams & spreads.
Suggested Complimentary Upgrades
Upgrade to 60 Minute Classic Massages $10.00
Upgrade to a 60 minute session, get a Hot Stone Sampler
Choice of Body Butter  $10.00
Quick Facial Refresher $5.00
Hot Stone Sampler $10.00
Without Breakfast but with snacks take off $3.00 per person
Spa Lovers Party $120.00 per person You'll love our Classic Hour (60 Minute) Massages. Suggested Complimentary Upgrades
Choice of Body Butter $10.00
Quick Facial Refresher $5.00
Stone Sampler $10.00
Retreat for the Feet Sampler $15.00
NEW! Infrared Sauna $10 when pre-booked / $15 on the day of the party
Spa Sampler Party $129.00 per person Sample all things spa! Each guest will enjoy a 45-minute lavender aromatherapy massage with a hot stone sampler, a quick facial refresher cooling masque and a hot towel foot exfoliation scrub. Suggested Complimentary Upgrade
60 minute massage and European Rose Mud for calves and feet $20.00
Signature Spa-ah Meltaway Party
Cleopatra Wrap-ture Party $195 per personThis unique, blissful indulgence begins with a bed of fresh aromatic rose petals.
The rose fragrance will delight your guest's senses and awaken the heart chakra. Your guest's will receive full body, nurturing massages with rose oil before being cocooned in the rose petals and precious oils. Wonderfully, pampering facial massages will leave you feeling soothed and beautiful. (Total Hands On Time 90 Minutes) Includes a single rose for each Queen.
Suggested Complimentary Upgrade
Quick Facial Refresher $5.00
Chocolate Decadence Spa Party $140 per personHow Sweet It is! Everyone loves chocolate.
The scent of chocolate triggers the release of chemicals in the brain that produce a similar feeling as when one first falls in love. In addition to being a sensory indulgence, chocolate contains over 300 different compounds some of which can have a significant impact on one's health and beauty. De-stress by Chocolate is a Hands On Motto!
Includes a 60-minute Chocolate-infused -aroma-massage, a pampering peppermint foot scrub and   Over-sized Chocolate Truffles.
Suggested Complimentary Upgrade
NEW! Infrared Sauna $10 when pre-booked / $15 on the day of the party
De-Stress Without The Undress $80.00 per person Party perfect for everyone
This party is perfect for co-workers, fundraisers, corporate events or for any party that feels more comfortable dressed, then in robes. Each guest will enjoy a 20 minute chair massage. Depending on the number of guests, this party usually incorporates only one party room, rather than two!
Suggested Complimentary Upgrade
Minutes can be adjusted, up or down depending on the number of guests booked. Please call us to discuss customizing this party!
Young Miss Spa Girl Party $55.00 per DivaWhat a great introduction to professional touch!
10-minute Back, Scalp, Hand or foot massages, Quick Facial refreshers or Cool Cucumber Eye Packs with time in The Quiet Room, Eco-friendly paraffin (Eco-Fin), Pampering Foot Soaks, Sparkling Fruit Juice and Chocolate Covered Strawberries.
Average Party 2.5- 3 hours 6 girl minimum, 12-15 girl maximum. Ages 8-16 Suggested
Suggested Complimentary Upgrade
Stress Reduction Exercises and Tips lecture by a Licensed Massage Therapist $25.00
Call Valerie for mid week special!
Planning Your Party
Planning Your Party
Reserve Hands On HealthCare Massage Therapy and Wellness Day Spa for your private massage spa party. Our facility includes use of our party room for you and your guests and treatment rooms. We can accommodate up to 12 guests. To ease the scheduling of large groups, we recommend to reserving your date as far ahead as possible for us to accommodate your desired services. Pick your own Spa Party Package! You may choose from our party package or customize a package from our different services.
The party room premium of $100.00 will be applicable on all Spa Parties. Most guests choose to share in the cost of this fee and often share in the cost of the guest of honor, as well
Prices are subject to change without notice. Your deposit will guarantee your price!  The scheduled services for your group are reserved and staffed according to your requests. Therefore, we strictly adhere to our cancellation policy for parties. We can arrange to have your guests, " take home the experience, " with favors such as body scrubs, slippers, etc. Please let us know your intention at least 2 weeks prior to your party so that we can make appropriate arrangements.
Frequently Asked Questions
FAQ'S
How long is the SPA Party?
It will depend on the number of guests and services. Generally, they are 3 hours.
I'm pregnant, can I still receive SPA Party services?
Yes, we offer specific services for pregnancy.
Is it safe to have treatments the day before or the day of my wedding?
Absolutely! You may want to consider coming by the office 1-2 weeks prior to have a spot treatment sample of any body treatment to make sure you are not allergic to it.
Is there anything I should avoid prior to my SPA Party treatment?
If you will be receiving a Body scrub, please avoid shaving the day of your session.
Why should I consider including an Infrared Sauna Treatment?
Because it feels wonderful and it's good for you! Make sure you read all about it!
Are there any health conditions I should disclose prior to my appointment?
A medical history intake form will be sent to you and reviewed prior to your session. We will notify you of any contraindications.
What about teens and tweens?
Yes, yes, yes! They love having a Spa Party!
How far are you?
Not too far! Our guests have come to celebrate happy times with our massage spa parties from many towns on Long Island and NYC including Babylon, Bayshore, Brentwood, Centerport, Commack, Deer Park, Dix Hills, East Northport, Fort Salonga, Greenlawn, Hauppauge, Huntington, Freeport, Islip, Kings Park, Massapequa, Melville, Nesconset, Northport, Ronkonoma, Selden, Smithtown, Sound Beach, St. James, West Islip, etc. Suffolk County and Nassau County Residents alike have made memories here!
How come you won't come to my house?
Good News! Now we do! Learn more on our Spa Party at home page!
The Small Print
Long Island Spa Parties: $200.00 deposit is required to reserve the date and time. The length of time for each session must be decided and the approximate amount of guests must be given at this time. Each guest must leave a deposit of 50% within 1 week of the official booking. Cancellations more than 2 weeks prior to party date will be given a complete refund except for a $100.00 set-up fee. Cancellations less than 2 weeks prior to party will be charged 50% of full service up until 2 days prior to date in which there will be no refund.
Final Payment: All final payments must be made at least 2 weeks prior to your party date. Refunds will not be given for any cancellations 2 days prior or less to the party, unless medical documentation from a licensed physician, unrelated to any of the guests, is received.
Spafinder, Spawish or previously purchased gift certificates cannot be used for payment towards any party.
Please be aware that there are contraindications for Massage Therapy sessions and for additional services. Forms which includes a Medical History are required. We ask that these be returned at least 2 weeks prior to your party so that we may properly accommodate all of your guests. We cannot be responsible for any cancellation of services due to a lack of a proper medical history prior to the sessions.
Host/Hostess gratuity is not included in the package but can be added onto your bill.
Focused and Medical Massage requires communication during treatment, therefore we can't accommodate these type of requests for Spa Parties.
Take a Tour
Please contact us to come in for a tour, make reservations, or for additional information. Our Event Coordinator will provide all necessary service arrangements throughout the planning process
Related Pages
Before and During Session

We will discuss your progress, how you are...

Visit Page

Forms

NYS law states that we must maintain a record for each patient...

Visit Page

Hands On Policies

We reserve time especially for you. Unless you...

Visit Page
Infrared Sauna

Is an effective tool for natural healing and prevention...

Visit Page

Spa on the Go for Parties

Let Us Bring The Day Spa To Your Doorstep!

Visit Page

Teenagers and Massage

Oh, to have a teenager! Oh, to be a...

Visit Page